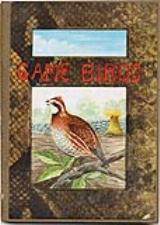 Book title: American Game Birds
Author: Chester A. Reed
Editor: Charles K. Reed
Publication year: 1912
Copyright: 1912, Chas. K. Reed, Worcester, Mass.
Format: 5 x 7 (13 X 19 cm.)
Type of cover: Hard cardboard cover with a color drawing on the front and the back
Number of pages 64 pages, 159 bird descriptions
Retail price in 1911: $0.60 (us)
Coût pour la poste: $0.05
My Observations
This book answered many sportive people's requests. It is about the identification of birds in sport hunting. The book was, according to the author, the first one featuring practical color drawings as close to nature.
In the book, there are aquatic birds suitable for hunting and birds that are either forbidden to hunt or not edible. The goal was to allow their identification and help differentiating species to help hunters identify them without having to kill them.
The classification was structured in a way that showed the most common birds first and the least common at the end of the book. It features 159 bird species.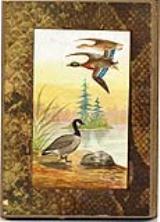 The book cover has a rich drawing. It looks like snakeskin with very bright drawings on the front and the back covers.

It was sold in a decorative box similar to the book "Wild Flowers of New England." (1) The box was custom-made to protect the book. Charles and Chester knew the importance of good presentation for books.
The book "American Game Birds" gave a lot of information on birds, which probably explains why it didn't use the same format as the "Bird Guides" usually produced by Chester for bird identification on the field. This book was innovative and allowed the anticipation of future bird identification books.
A Growing Innovation
The book shows Chester's vision for bird identification books.

On both pictures, we can see that Chester featured many similar species on the same drawing boards. We start to understand the necessity for the identification of similar birds by comparing small details.
Color is not always the best way to identify a bird. When birds are in backlight or under the sun, the contrast in their colors sometimes becomes another way to identify them. Chester understood that technique.
On the drawings below, Chester shows different species in black and white, which allows to compare and identify the species using the contrast between the dark and light areas of the birds.

Chester did not have time to develop the concept, but he showed the way for future identification books. 22 years later, Mr. R. T. Peterson took over Chester's concepts and improved them by adding an ingenious arrows system to identify characteristic points for different species of birds.
During that time, the technology in binoculars had evolved enough to take advantage of such evolutions in the description of birds.
Without the author knowing it, the book showed the way for future bird identification books. The "Field Guide" concept only appeared in 1934 with R. T. Peterson's first book.
This is the last book published by Chester. It is the last time that we can see his signature at the bottom of the introduction page.
You can consult the slideshow of the presentation.