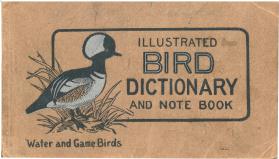 Book title: Bird Dictionary and Note Book, Water and Game Birds of Eastern North America
Author: Chester A. Reed
Editor: Chas K. Reed
Publication year: 1912
Copyright: Chas. K. Reed, Worcester, Mass.
Format: 3 ½ X 5 ½ inches
Type of cover: Brown paper cover
Number of pages: 120 pages
Retail price in 1912: $0.35
Mailing cost: Included
This book was published at the same time as "Bird Dictionary and Note Book, Land Birds of Eastern North America." It allowed ornithology enthusiasts to compile their observations made during ornithology excursions. Even though the book only featured black and white drawings and some descriptive information on the species, it was not designed for bird identification. It complemented the "Bird Guide Part 2, Land Birds East of the Rockies," which was aimed to help people to identify birds in their natural environment.
For more information, consult the presentation "Bird Dictionary and Note Book, Land Birds of Eastern North America."