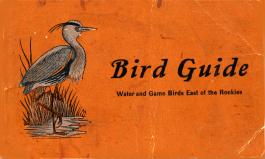 Book title: Bird Guide Part 1 Water Birds East, of the Rockies
Author: Chester A. Reed
Editor: Charles K. Reed
Publication year: 1906
Copyright: 1906
Printer: A. M. Eddy de Albion, New York
Format: 3 x 5 ½ pouces
Type of cover: Glossy cardboard, leather
Number of pages: 220 pages
Retail price in 1906: 0.50$ ( couverture en carton glacé)
0.75$ ( couverture en cuir flexible)
Mailing cost: inclus.
This was the second Bird Guide published by Chester A. Reed in May 1906. It had the exact same structure as the first Bird Guide published a few months earlier, «Bird Guide Part 2, Land Birds East of the Rockies» in November 1905.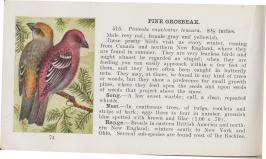 It provided the common name and the Latin name for each bird, as well as its dimensions, a few notes on its behavior, its nest and its area of dispersion. In the second book, the bird's song was not described as thoroughly, which left more space to document the bird's behavior.

In the introduction, Chester described the main characteristic shapes of 12 bird categories that were shown in the book. It showed his expertise and his abilities to summarize a bird's characteristics to make it easier to identify on the field in a few seconds. In seven 3×5 inch pages, he summarized the 17 pages of technical information from the book "Color Key to Birds of North America" that he had published «Color Key to Birds of North American» with Mr. F. M. Chapman in 1903.
This book probably marked the end of the publication of the «American Ornithology (1901-1906)»."Bird Guide Part 1" was published in May 1906 and, the following month, Chester announced that the magazine "American Ornithology" would only be published once every two months. He ensured that the magazine's content would maintain its quality standards. However, in the August 1906 magazine's editorial, Chester mentioned that over 27,000 Bird Guides had been sold. With this great success, he probably didn't have as much time to spend on the magazine's publication. It then stopped being published and Chester A. Reed became a successful author with his "Reed Nature Books" collection.