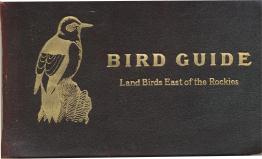 Book title: Bird Guide Part 2 Land Birds East of the Rockies
Author: Chester A. Reed
Editor: Charles K. Reed
Publication year: 1909
Copyright: 1905, 1909
Printer: A. M. Eddy de Albion, New York
Format: 3 x 5 ½ inches
Type of cover: glossy cardboard, soft leather
Number of pages: 230 pages
Retail price in 1909: 0.75$ (glossy cardboard cover)
1.00$ (soft leather cover)
Mailing cost: 0.05$
The new 4-Color Process changed the printing of the nature books (Nature Study). Chester's book "Bird Guide Part 2 Land Birds East of the Rockies" was the first to use the process in 1909. However, the technology wasn't quite perfect yet. Chester's technical drawings did not look as good and the printing quality was not great, but we cannot stop evolution.(1)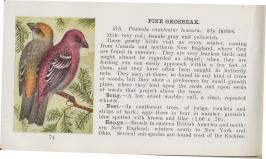 He didn't make any changes to his book structure for this new publication. However, he improved many texts and re-made all the drawings in color (4-Color Process) that would quickly become a key element for bird identification in the field.
At the end of the book, Chester provided his readers with a tool to make bird identification easier. The "Field Key for Identification of Eastern Land Birds by Conspicuous Markings" was a bird identification key based on colors. It was probably the reason why Chester A. Reed planned and offered his first bird color identification chart to his magazine's readers "American Ornithology for the Home and School" in February 1902. (2) (2) He also introduced a bird classifying chart supported by The American Ornithologist's Union. It had lots of information for such a small book.
Even though the original copyright was in 1905, Charles K. Reed repeated the same mistake as at the beginning of 1906. That way, in the first pages of the book, the copyright is dated 1906 and 1909. (3)
You can consult the slideshow of the presentation.
---