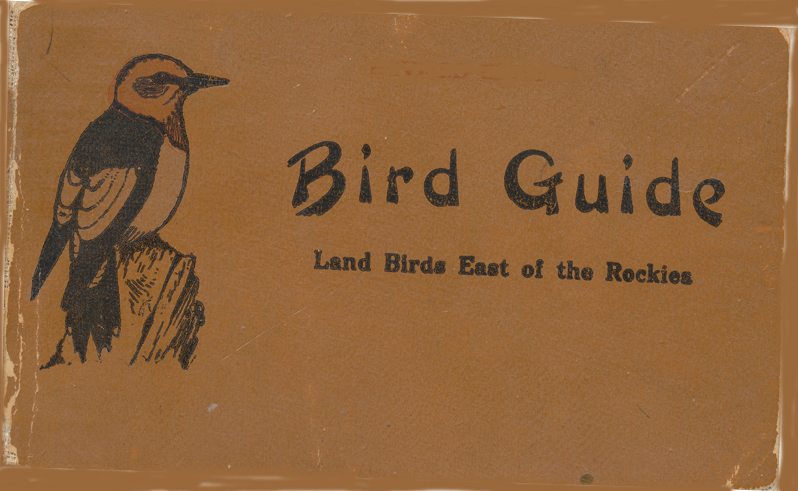 Book title: Bird Guide Part 2 Land Birds East of the Rockies
Author: Chester A. Reed
Editor: Charles K. reed
Publication year: 1905
Copyright: 1905
Printer: A. M. Eddy de Albion, New York
Format: 3 x 5 ½ inches
Type of cover: Glossy cardboard
Number of pages: 220 pages
Retail price in 1905:
$0.50 (glossy cardboard cover)
$0.75 (soft leather cover)
Mailing cost: included
It is the very first color Field Guide for bird identification in a pocket format, which makes it easier to use in the field. The title of the book was fairly simple: «Bird Guide», but the ads emphasized the term "Pocket Bird Guide."
At that time, books about birds were often thick and contained very few drawings to help with bird identification in the field. They were mainly reference books. The term "Pocket Bird Guide" referred to the fact that you could practice your favorite hobby, while having access to technical information to identify birds in the field.
This book briefly describes the nest, the eggs, the area of dispersion, and the song on the bird, with a color picture of the bird. To make it easier to find the birds, the drawings were placed on the sides of the page. Chester included 187 species of birds. It is interesting to notice that the way they Chester presented the species is still used in today's Field Guides by contemporary authors. In 1905, Chester defined the structural standards for Field Guides.

At the end of the book, Chester included a few blank pages to allow the observer to write down remarks while observing birds.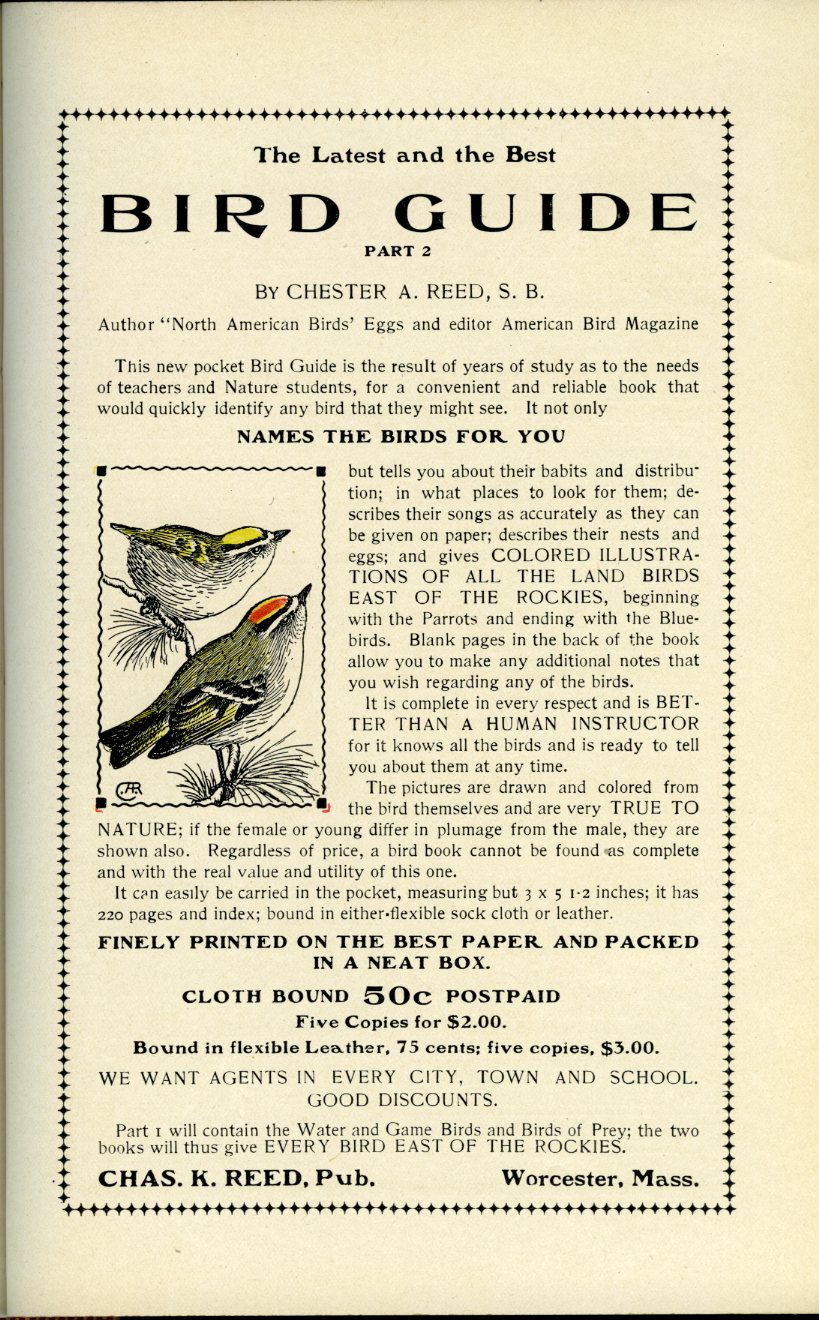 Here is the first ad for the book, shown in the magazine "American Ornithology for the Home and School." The book went on sale in November 1905..
Between Chester's books, this one was the most popular. It was published until 1951 by "Doubleday, Page & Company," which changed names in the meantime.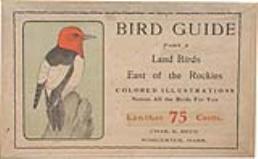 The book was sold in a protective box, changing over the years. Here is the first box for the book published in 1905.
There is a controversy about the book's date of copyright. The actual copyright was in 1905, but we can find other versions of the book with a copyright from 1906. The confusion was actually caused by a printing mistake.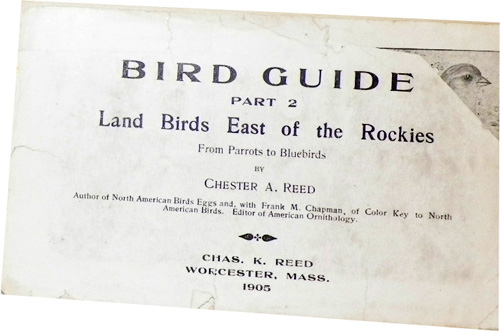 At the beginning of 1906, the printer probably mixed up the printing date and the copyright date. The mistake was corrected in the following printing of the book, but the confusion was spread out that Charles K. Reed chose to keep 1906 as the copyright date for the following editions of the book. It would be hard to understand why he wished to keep the mistake.
The copyright of the "Bird Guide Part 2, Land Birds East of the Rockies" is dated August 26, 1905. Chester and Charles chose to wait until November to distribute the book, to take advantage of the holiday gift sales.
You can consult the slideshow of the presentation.