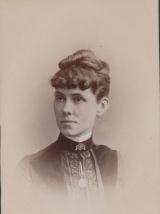 Carrie   Bosworth  Reed
1852 – 1942
Mother, smart and involved woman, and keeper of Charles Keller Reed's and Chester Albert Reed's memory.
Carrie Smith Bosworth was born on May 21st, 1852, in Barrington, Bristol County, Rhode Island. She married Charles Keller Reed on July 6, 1873, in Barrington. They had 4 children together:
| | | |
| --- | --- | --- |
| | Bertha May REED: | born on March 16, 1874 |
| | Chester Albert REED: | born on January 10, 1876 |
| | Ralph Warner REED: | born on February 26, 1878 |
| | Mona Alma REED: | born on July 18, 1892 |
All 4 children were born in Worcester, Massachusetts. Ralph only lived for six weeks. He died on April 7, 1878, from a childhood disease.
There is very little information on Carrie's life, but we can find a few bits and pieces to get to know her better.
Carrie was a great partner for Charles and shared his passion for birds. She was recognized as an expert at shooting birds (1) at a time when it was allowed to kill birds to fulfill museum's need to complete their collections.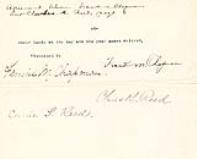 She helped Charles manage the enterprise. She acted as a witness when Charles signed important contracts. Here is part of a signed contract between Charles K. Reed and Mr. Frank Chapman for the publication of the book "Color Key to North American Birds" in February 1902. We notice that Carrie Reed signed as a witness, as well as Mr. F. Chapman's wife.(2)

Carrie developed the habit of reviewing books edited by Charles or published by Chester. Here are a few observations that she made on Mr. F. Chapman's book, "Color Key to North American Birds, reviewed edition" published in 1913. She developed an eye for typos and spelling mistakes. To accomplish this work, she needed great concentration and in-depth knowledge of birds. (10) (P3)
When Charles was alive, Carrie took care of the house and the children's education and supported Charles in his enterprise. She was an active member of the Worcester's Natural History Society, contributed to the Reed family's influence in Worcester's ornithology community, and was very involved in genealogical research of the Reed and Bosworth families.(1)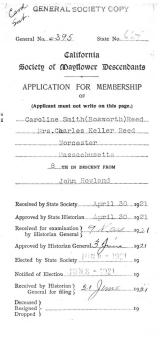 In 1921, Carrie became a member of the "Society of Mayflower Descendants." She was part of the 9th generation of John Howland's descendants, who came from England on the Mayflower, to Plymouth, Massachusetts in December 1620. Until the end of her life, Carrie was a member of the Advisory Board and the Honor Roll, in the Bosworth Association. She was generous and always ready to help when additional funds were needed for different publications. (1) (P4)
When Charles passed away, Carrie inherited all his possessions as well as the royalties given to Charles by Doubleday, Page & Company for the publication of his books.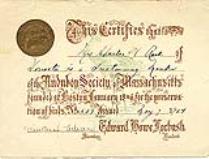 Starting then, Carrie became involved in different ornithology societies in Massachusetts. On May 7, 1924, Carrie became a "Sustaining Member" of the Audubon Society of Massachusetts. (3) She greatly contributed to the funding of the organization chaired by Edward Howe Forbush, a friend of the family.
She was elected associated member of the prestigious ornithology society, "American Ornithologists' Union," in 1925.(4) She kept her membership until her death, 17 years later.
On March 20, 1933, Carrie was named "Honorary Member" of the Forbush Bird Club in Worcester. (9)
Carrie always contributed to keep Charles' and Chester's memory.
On December 20, 1932, at a "Worcester Natural History Society" quarterly meeting of the Forbush Bird Club, someone suggested they create a collection of ornithology books to preserve Charles' and Chester's memory for their participation in the Society's affairs and their great contribution to science and to the ornithology hobby in American ornithology history.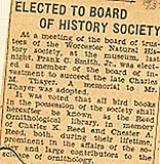 The suggestion was accepted and the collection was named " The Reed Ornithological Library." (6) The Forbush Bird Club suggested adding its own books to the collection to increase the number of books, which was evaluated to about 180 books. (P6)
The Worcester Natural History Society's secretary suggested giving this information to Carrie Bosworth Reed. Dr. Ekblaw, President of the Forbush Bird Club, send a letter to Carrie B. Reed to inform her of Charles' and Chester's recognition. She kindly answered the club's president and included a $50 check for the production of an "ex-libris" (bookplate) to identify books in the collection. (7)
Production of the "ex-libris"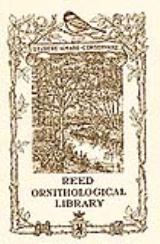 The Forbush Bird Club's emblem, the chickadee, appeared at the top with the inscription "Studere – Amare – Conservare" (to study, to love, to preserve). A forest scene is outlined by rosewood branches. The forest represents the region of Worcester.
At the bottom of the ex-libris, the binoculars and the camera represent the interest of the club and of whom the label was created for, Charles K. Reed and Chester A. Reed. In the middle, it is the Reed family's coat of arms.
It is possible to see the coat of arms in the short book "Wild Birds of New York," edited by Charles in 1912, a few months before Chester's death.
Mrs. Mabel J. Lewis was in charge of producing the ex-libris and Mr. William J. Waite was the designer. (8)
Carrie's contribution to keeping Charles' and Chester's memory started well before the official recognition of their contribution to the American ornithology history by the Worcester Natural History Society
A True Love Story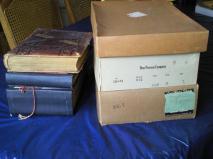 All of her life, Carrie kept archives in cardboard boxes of newspaper articles about Charles and Chester, advertising documents produced by Charles, official documents, biographical summaries, and pictures. We can see how proud she was of them and that she loved them deeply.
We were able to obtain a big part of the documents and pictures presented on this website thanks to her. Then, Mona, her daughter, kept and shared the documentation with future generations.
Carrie Bosworth Reed
Mona Reed King – (Carrie's daughter)
Doris King Gibbins (Mona's daughter)
Gail Gibbins Berkshire (Doris' daughter) Gail presently lives in New Jersey.
They are the keepers of Charles and Chester Reed's memory.
Carrie was autonomous. She always lived at the family home at 11 State Street, Worcester. A year before her death, she moved in with her daughter, Mona R. King, in East Orange, New Jersey. Carrie Bosworth Reed passed away on January 14, 1942, at 90 years old. She rests with Charles at the "Forest Hill Cemetery" in Barrington, Rhode Island.
You can consult the slideshow of the presentation.
---
(1) Bosworth Bulletin #38 (April 1942)
(2) Carrie Bosworth Reed's archives
(3) Carrie Bosworth Reed's archives
(4) Palmer, T. S. and al. 1954. Biographies of Members of the American Ornithologists' Union, reprinted from 'The Auk', 1884-1954. Ed. by P. H. Oehser. Washington, DC: Lord Baltimore Press, 630 pp. [p. 472].
(5) Worcester Telegram Gazette, May 21, 1921
(6) Worcester Telegram Gazette, December 21, 1932
(7) The Chickadee, March 1933, volume 3, number 1
(8) Worcester Telegram, April 15, 1934
(9) Carrie Bosworth Reed's archives
(10) Note inside the book cover "Color Key to North American Birds reviewed edition" that belonged to Carrie B. Reed
Photo
(P1)  Caroline «Carrie» Bosworth Reed in 1888, Reed family's archives
(P2)  Reed family's archives
(P3) Note inside the book cover "Color Key to North American Birds reviewed edition" published in 1913. Reed family's archives
(P4) General Society of Mayflower Descendants' archives
(P5): Membership certificate to the Audubon Society in Massachusetts, 1924, Reed family's archives
(P6): Worcester Telegram Gazette, December 21, 1932, Reed family's archives