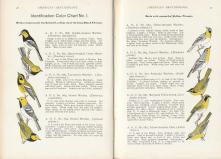 In February 1902, Chester A. Reed introduced his color identification chart #1. He wanted to provide an easy-to-use tool to help identify birds using a chart showing the characteristics and colors of birds, as well as their similar features.
A few days later, Mr. Frank M. Chapman met with Charles K. Reed and Chester K. Reed to write a book using Chester's concept.
A contract agreement was signed between Frank M. Chapman and Charles K. Reed, in February 1902, to publish the book «Color Key to North American Birds».
Chester continued publishing his color identification charts. We can understand that it is rather unusual that an author presented snippets of information on his book before the publication. The diffusion went on for 24 months. In January 1904, the 24th and last color identification chart was published in the magazine «American Ornithology For Home and School».
It means that, without a doubt, Chester was not simply an artist who drew 800 species of birds for the book. He had "rights."
Mr. Chapman's book was published on November 15, 1903. (1) (1)
Click on slideshow of the presentation to see Chester's editorial piece from February 1902 and the 24 charts that he produced for the magazine.
---
(1) Consult the "List of Chester A. Reed's publications" section, chapter "Color Key to Birds of North America."