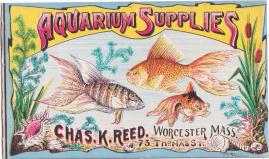 In 1897, Charles K. Reed had just moved into his new store on 75 Thomas Street, Worcester, Massachusetts. Even though he specialized in taxidermy, he always kept room to sell aquarium fish in his store.
This small magazine offers a few tips and tricks on aquarium maintenance. Most importantly, the list of prices tells a lot about the retail price of many species of fish at the time.
A few observations.
The magazine's color cover page is probably the first known publication of a drawing signed by Chester A. Reed, in 1897. Chester had worked for his father's business since 1896. He had probably participated in other advertising projects, just like this ad in the magazine "The Museum," in November 1899.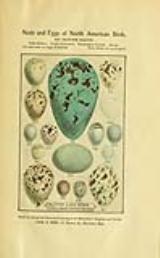 The drawing in this ad is not signed, but it reflects Chester A. Reed's artistic skills. In addition, there are no drawings of eggs in Olivier Davie's book. It would have been an advertising initiative by Charles K. Reed to sell the book.
UAlso, on the last page of the book, it mentions the services and products for taxidermy sold at the store. In the introduction, it says that the store had been in the taxidermy business for 15 years.
With a simple calculation, we can assume that Charles K. Reed transformed his pet shop to specialize in taxidermy in 1882 or 1883. At that time, he partnered with Mr. H. L. Rand and named the store "Rand & Reed Taxidermists."