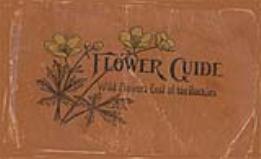 Book title: Flower Guide, Wild Flower East, of the Rockies
Author: Chester A. Reed
Editor: Charles K. Reed
Publication year: 1907
Copyright: 1907
Printer: A. M. Eddy de Albion, New York
Format: 3 x 5 ½ inches
Type of cover: Glossy cardboard, leather
Number of pages: 202 pages, over 250 descriptions of plants.
Retail price in 1907:
$0.50 (glossy cardboard cover)
$0.75 (soft leather cover)
Chester A. Reed was mostly known for being an ornithologist. However, in 1907, he published the first "Field Guide" on plants, "Flower Guide, Wild Flowers East of the Rockies."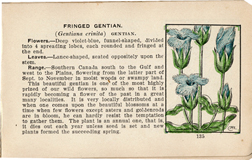 The guide had the same structure as his popular Bird Guides: one drawing per page with a short description of the flower, the leaves and its area of dispersion. On some pages, he showed two plants. The general presentation was based on grouping flowers by colors.
In the preface signed by Chester A. Reed, he mentioned that, since the publication of the first edition of the Bird Guides early in 1906, he had received many requests to publish books on other topics such as flowers, butterflies, fish and animals. He wouldn't have enough time to realize all of those projects.
The copyright of the book was dated January 28, 1907. In an edition printed in 1908, at the top of the page, it says "Seventy-Second Thousand." It leads us to thinking that 72,000 copies of the book had been sold over one year. Chester A. Reed's career as a nature book writer was only starting.
For Charles K. Reed, each book sold was a great way to advertise his son's other publications. At the end of the book, it is interesting to see the ads for Chester A. Reed's other publications.