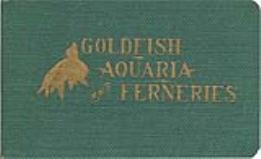 Book title: Goldfish, Aguaria & Ferneries
Author:: Chester A. Reed
Editor: Charles K. Reed
Publication year: 1908
Copyright: Charles K. Reed, 1908
Printer: ??
Format: 3 ½ x 5 ½ (9 X 14 cm.)
Type of cover: Green fabric cover and gold title
Number of pages: 185 pages
Retail price in 1908: $0.50 (us)
Mailing cost: $0.05
In 1875, Charles K. Reed opened his first store, a pet shop for small animals and birds, in Worcester (1). With time, taxidermy took over and became his main occupation. However, he always kept room in his boutique for fish.
In 1897-1898, he produced this 12-pages leaflet and distributed it to his clients without charge to teach them about aquarium maintenance and describe many species of fish, along with their price.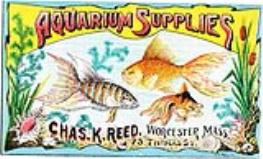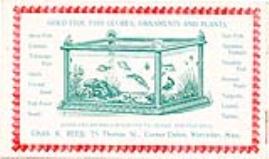 Cover page                                  Back page
Drawings produced by Chester A. Reed, Reed family archives
In 1908, it was the opposite situation. Charles gave up taxidermy and went back to his roots… or almost.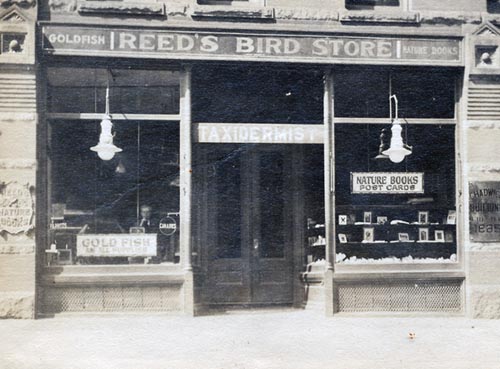 Charles K. Reed's store in Worcester in 1908. Picture taken from the Reed family archives. Charles is at the window on the left.
The front of the store clearly showed his new mission. He focused on editing books on nature, "Nature Books," marketing postcards (Chester's pictures and drawings) and the retail of small animals and birds. The marketing of aquarium fish was still important in his store.
Chester published his book "Goldfish, Aquaria & Ferneries" in 1908 as an educational way to share information on products sold at the family's store.
Unlike the 1897-1898 leaflet, this small book offered an excellent description of aquarium fish species and how to take care of them. It also featured ideas for ornamental layouts with different aquatic plants.
In the preface, Chester mentioned that he had developed an interest 25 years earlier, which probably goes back when he was about 7 years old. It was probably one of Chester's first responsibilities at his father's store when he was younger.
The book had the same format as Chester's "Bird Guides." It was easy to use and the topic made it a great addition to the new "Natures Books" collection.
The book is very rare and sought-after by collectors.