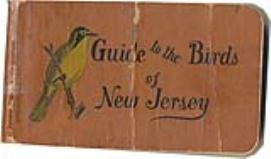 Book title: Guide to the Birds of New Jersey
Author: Beecher S. Bowdish and Chester A. Reed
Editor: Published under the auspices of the New Jersey Audubon Society
Publication year: 1911
Copyright: Charles K. Reed , 1911
Format: 3 ½ x 5 ½

Type of cover: Glossy cardboard cover
Number of pages: 188 pages, 64 drawings, close to 340 birds' descriptions
Retail price in 1911: ??
Mailing cost:??
The book is interesting for many reasons. It was the first time that Chester A. Reed published a "Bird Guide" specific to a region in the United States. His books usually covered the whole Eastern part of the United States.
The book was also the first "Field Guide" for the New Jersey region. (1)
It was published under the auspices of the New Jersey Audubon Society. Chester A. Reed's experience and his "Bird Guides" did not go unnoticed in the ornithology community in the United States. Using the format developed by Chester, the Audubon Society offered a book especially adapted to species of the region to bird enthusiasts in the area. The most important thing to remember is that the Audubon Society recognized Chester A. Reed's work and that the book format that he had developed for the identification of birds in the field had become an essential tool for education and the protection of birds.
The book featured close to 340 species, and Chester A. Reed created 64 drawings, shown in the middle section of the book. The descriptions were short and described the bird in general, its nest and, sometimes, its song.
On the title page of the book, it does not specify that Charles K. Reed, Chester's father, was the editor of the book. He might have sold his retail rights to the Audubon Society, as he had done with the Mohonk Salesrooms.(2) In addition, no advertising on the book was made in the different ad leaflets that I consulted during my research on Chester A. Reed's books sales. (3)
We can find an anecdote in Chester's mother's notes, Carrie B. Reed, who was in charge of renewing the copyrights for Chester's books. A note mentions that Carrie had not been able to renew the book's copyright in 1922. No one had the original copyright and a lawyers' firm mandated for the research could not find it. It was then not renewed.
You can consult the slideshow of the presentation.
---