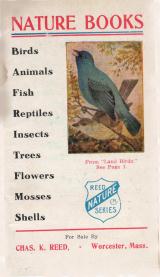 In 1908, Charles K. Reed moved his store to 238 Main Street, in Worcester. At the time, he oriented his business towards book editing. His store offered a wide variety of Nature Books.
This 20-pages catalogue (3 ½ X 6 inches), probably published in early 1911, introduces Charles K. Reed's bookstore, offering over 140 books to his clients.
It is interesting to be able to refer to nature books with some information on their content. It allows us to assess the proliferation of authors at the time. Some had very good reputations, including Florence Merriam Baily, Frank M. Chapman, Elliott Coues, William C. Beebe, Mabel Osgood Wright and William Jacob Holland.
Most of the books were probably edited by Charles' editing partner, "Doubleday, Page & Company."
On page 3 of the catalogue, subscriptions are offered for two magazines, including "Bird Lore," the Audubon Society's official magazine, edited by Mr. Frank M. Chapman.