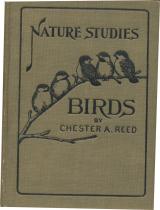 Book title: Nature Studies Birds
Author:Chester A. Reed
Editor: Charles K. Reed
Publication year: 1910
Copyright:1910*
Printer: A. M. Eddy, Albion, New York
Format:5 ½ x 7 ½
Type of cover:Brown-gray fabric cover
Number of pages: 112 pages, 40 drawings
Retail price in 1911: 0.60$ (us)
Mailing cost: 0.10$
Chester A. Reed's teaching talents were obvious with the publication of this book.
The book has two parts. The first part shows the life of birds in general. It is an informative section.
The second part tells the story of Uncle George, who walked in the forest and answered Dorothy's and Dick's questions. It is an educative approach using a story to explain bird life to children. The book could be used by teachers to liven up assignments.
Most importantly, the book explains the origin of the miniature cards (Miniature Bird Pictures) that Charles would first publish in 1910. The book provides 40 drawings of birds. Chester made the suggestion to teachers to use the first series of 40 miniature cards (3 inches by 4 inches) that were presented in his book as an educational tool to complement school projects. On the back of each card was the name of the bird.
Chester used a lot of imagination to promote his miniature bird pictures. He suggested using them in:
Written assignments for school;
Scrap book;
Post card albums;
Decorating – at home, or in classrooms at school;
Including them in letters to birds lovers.
Any reason was good to promote the sale of his miniature cards. A few months later, Charles K. Reed (1) published a new list of 80 miniature cards. The name of the bird as well as some information on its habitat and its area of dispersion were written on the back of each of these cards. The miniature cards were recommended to teachers to help with school assignments or to use as rewards.
You can see the 27 original drawings used in the publication of those miniature cards in the "Gallery" section, option G.
A version of this book, published by "Doubleday, Page & Company" is dated from 1910. However, the book was printed after 1916, when "Doubleday, Page & Company" acquired the publication rights for all books edited by Charles K. Reed. To learn more about the relationship between Charles K. Reed and "Doubleday, Page & Company," refer to the "For the Most Curious" section.
You can consult the slideshow of the presentation.
*The book shows 1910 as its publication date. However, Carrie B. Reed's notes indicate that the book was copyrighted on June 1st, 1911.
---
We have to remember that Charles K. Reed owned the publication rights on all of Chester's books and drawings.