Book title: Wild Flowers East of the Rockies
Author: Chester A. Reed
Editor: Charles K. Reed
Publication year: 1910
Copyright: Charles K. Reed, 1910
Printer: A. M. Eddy de Albion, New York
Format: 4 X 6 inches
Type of cover: hard cardboard in olive green fabric
Number of pages: 427 pages, 320 flowers drawings
Retail price in 1910: 2.50$
Mailing cost 0.15$
Chester A. Reed had been the curator at the Worcester Natural History Society for the last two years, but he wasn't scared of working hard. To create the 320 technical drawings of plants, he used real plants. 90% of them were freshly picked between Maine and Virginia. To accomplish this work, he was helped by Mrs. Ella L. Horr, curator at the Worcester Natural History Society, and Mr. Herbert D. Braman, curator in the museum's department of mineralogy.
For Chester, the drawings had to allow the identification of the plant. The descriptive text was meant to help differentiate similar plants.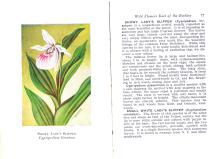 The format of the book allowed its use in the field. He identified the plant by its common and Latin names, and described the flower, the leaves, the roots, the stem, the dispersion area, and the blooming period. To ease its use, all drawings were shown on the left side of the book and the text on the right. That way, it was easy to quickly find a plant. At the end of the book, he shared a flower identification key based on colors.
The drawings were also used in the book "Flower Guide, Flowers East of the Rockies" published the same year. Charles K. Reed, Chester's father, owned all copyrights for his son's work and drawings. In 1914, Charles published an educative card game on flowers. Then, in 1915, he published a series of postcards for 50 flowers. He took the drawings from the publication of this book.(1)
Despite the large number of plants drawn by Chester, none of the original drawings could be found.
You can consult the slideshow of the presentation.
(1) For more information, consult the "Gallery," sections F and R.