Having ideas is good, but we have to share them!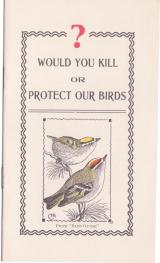 This small 12-page advertising brochure is probably the first of a long series of magazines about Chester A. Reed's books. In January 1906, Charles K. Reed published his first advertising brochure to promote Chester's first "Field Guide" on birds, entitled "Bird Guide." (1)
The title may seem dramatic, but we have to think about the context at the time.
Only six years before, in 1900, Mr. Frank M. Chapman had initiated the first "Christmas Count" in the United States and in Canada. Schools were restructuring to include nature study in academic programs. The Audubon Society created many Junior Audubon Clubs in schools to increase awareness towards bird protection programs.
Most importantly, a large fraction of ornithologists still used small rifles to kill birds, either to identify them (ancestral methods), to practice taxidermy or to develop their shooting skills. New legal regulations were being implemented since 1903.
It is interesting to read how Charles K. Reed and his son, Chester, promoted the first Field Guide for bird identification, first published in November 1905.
Interesting Observations
In the presentation of the book "Bird Guide Part 2, Land Birds East of the Rockies," Charles K. Reed highlights Chester's new reputation as the editor of the magazine "American Ornithology," the author of the book "North American Birds Eggs" and the co-author of the book "Color Key to North American Birds" with Mr. Frank M. Chapman.
Charles was an experienced business strategist. He developed Chester's growing reputation and took advantage of his talent.
Charles mentions that the book is the conclusion of many years of study. We should know that the project started with the publication of the first color identification chart in the magazine "American Ornithology for the Home and School" in February 1902. (2)
You can consult the slideshow of the presentation.
---
(1) For more information, consult the "First «Field Guide» 1905" section.
(2) For more information, consult the "Chester A. Reed's Publications" section, under "Color Key to North America Birds."