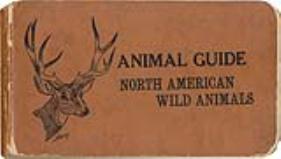 Book title: Animal Guide North American Wild Animals
Author: Charles K. Reed
Drawings by: Harry F. Harvey
Editor: Charles K. Reed
Publication year: 1915
Copyright: 1915
Printer:???
Format:
3 ¼ x 5 ½ inches (8 ½ X 15 ½ cm.)
Type of cover: Brown hard cardboard, drawings and title in black.
Number of pages: 256 pages
Retail price in 1915: $1.00 hard cardboard cover, $1.25 leather cover.
Mailing cost: Included in the retail price.
Charles K. Reed always had a close relationship with animals, either for work or as a hobby. On page 7 of the book, Charles provides a list of animals that can be eaten. On the following page, he listed prices for fur animals' skins. He could not have retired before publishing a book about animals, the very topic that gave him such a successful career in taxidermy.
A caribou hunting trip in Labrador, Canada, 1899 Reed family archives. Charles is second from the left.
Charles asked Harry F. Harvey to produce the drawings for the "Animal Guide." He had worked with Mr. Harvey on the "Western Bird Guide," published in 1913. He produced drawings of 61 animals. You can see most of the original drawings in the «Gallery» section. Charles described each animal in its environment, its lifestyle, its diet and its gestation.
At the end of the book, there are a few ads for books edited by Charles K. Reed. We can notice, in the ad for the book "Bird Guide Part 2, Land Birds East of the Rockies," that over 300,000 copies had been sold. It was 1915.
The book completed the "Nature Guide" series, started by Charles and Chester in 1905. The collection covers birds, plants, trees, animals, insects and more. If Chester had not died so early, the series would probably have covered many other nature-related topics.