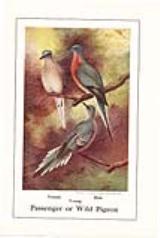 Charles K. Reed and his son, Chester, were very active in education and the conservation of birds.
In the article "The Passenger Pigeon Investigation by C. F. Hodge" published on page 49 of the magazine "The AUK" in January 1911, Mr. Hodge explains the research methodology put forward by the "American Ornithologist Union" to find the last survivors of endangered species in the wild.
Mr. Hodge mentions that he had invested $100 in various expenses to realize his research project on the species. He also highlights Charles K. Reed's and Chester A. Reed's contribution in preparing and disseminating a flyer with information to help identify the Passenger Pigeon and find a living specimen in the wild.
The document was widely disseminated in Eastern United States and represents a $400 investment gracefully offered by Charles and Chester.
This Photo Gallery shows what is probably the last copy of the flyer.