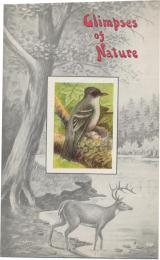 This catalog does not introduce any new books. We can then say that it was published around the end of 1912 or in early 1913. The only novelty is the ad for "Reed's Nature Study Glass" binoculars.
Between the end of 1912 and the end of 1914, Charles K. Reed commercialized binoculars under the Reed brand. For consumers, the Reed brand was synonymous for quality products specialized in nature study (birds, wild flowers, etc.). The products quality was impressive, considering that it was sold for only $5.00, including the leather case.
The binoculars were imported from France, which explains why the Reed's Nature Study Glass was no longer available at the end of 1914. World War 1, between 1914 and 1918, put a term to the business initiative.
In the document's introduction, Charles mentions that over 150,000 copies of the Reed Guides had been sold. However, at the end of the book "Nature Studies, Field and Wood," published in 1911, he says that over 200,000 copies of the "Bird Guide, Land Birds" had been sold. In the ads at the end of "The Bird Book" in 1914, he says that over 300,000 copies of the book had been sold. The book "Bird Guide Part 2, Land Birds East of the Rockies" was, without a doubt, Chester A. Reed's most popular book.
You can consult the slideshow of the presentation.
The last pictures show different photos of the "Reed Nature Study Glass" binoculars.