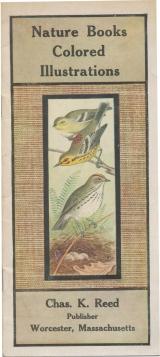 We can guess when the catalogue was printed because the book "Western Bird Guide," published on June 1, 1913, is included. 10,000 copies of the book were printed for its first edition. (1)
Charles K. Reed usually advertised books from his own collection, "Reed's Nature Books."
In the last pages of the catalogue, Charles advertised 18 books by other editors. For many years, Charles' store, "Reed's Bird Store, Nature Books," was a retail point for the books edited by "Doubleday, Page & Company." In 1914, Charles K. Reed started negotiating for the sale of his collection "Reed's Nature Books" with "Doubleday, Page & Company." It was natural that he promoted books for a long-time partner.
You can consult the slideshow of the presentation.
Note that the last picture is the original drawing for the cover page.
---
1: Carrie B. Reed's personal notes, Reed Family archives.