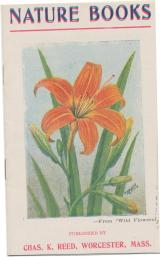 This catalog of the books edited by Charles K. Reed was published in early 1910.
All the books were written by Chester A. Reed, except for the one on mushrooms, which was still edited by Charles K. Reed.
We can also find two of Chester's books, "Water Birds" and "Flower Guide," which were still in their original versions, from 1906 and 1907. They were not published with the 4-color printing process yet, like Chester's book "Land Birds."
The last picture is the original drawing of a page from the catalog. We can notice Chester A. Reed's signature, at the bottom right of the aquarium.