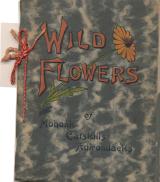 Book title: Wild Flowers of Mohonk Catskills Adirondacks
Author: Chester A. Reed
Editor: Mohonk Salesrooms
Publication year: 1912
Copyright: Chas. K. Reed, Worcester, Mass.
Format: 5 x 7 inches
Type of cover: Artisanal type cardboard cover
Number of pages: 51 pages, 40 color drawings
Retail price in 1912: ??
Mailing cost: ??
This book accompanied the book "Wild Birds of Mohonk Catskills Adirondacks."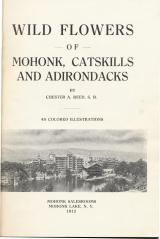 The edition was an exact copy of "Wild Flowers of New York," except for the title page. It is not mentioned in the copyrights records managed by Carrie B. Reed, which leads us to thinking that it was under the copyright for "Wild Flowers of New York." (1)
Interesting observation: On the title page of the book, we can see an old picture of the "Mohonk Mountain House." A similar picture, in color, can be found on the homepage of their website, only 100 years later
Web site«Mohonk Mountain House»
You can consult the slideshow of the presentation.
---