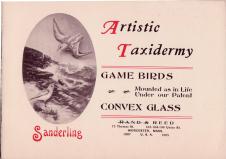 This magazine, probably published in 1897 or 1898, shows a full collection of frames commercialized by Charles K. Reed and his partner H. L. Rand.
Charles owned a pet shop since 1875, but it seems that he changed his business in 1882 or 1883 to specialize in taxidermy. At the time, he associated with Mr. H. L. Rand, a taxidermy artist.
On June 18, 1889, Charles K. Reed and H. L. Rand obtained a patent for their «Cabinet for preserving and displaying game»
However, they had certainly commercialized the process long before 1889.
Charles K. Reed's first store was located in the Lincoln Block, 368 1-2 Main Street, Worcester, in 1875. According to my observations, Charles changed paths to become a taxidermist in 1882 or 1883. In 1887, the store moved to 262 Main Street. At that time, Charles bought the store "The Naturalists Exchange" from Mr. Edward W. Forbush.
Charles' store was located at 368 1-2 Main Street from 1882 to about 1887. The header of that letter confirms the location of the store. Most importantly, it shows that the taxidermy frames "Convex Glass" were commercialized long before the patent was obtained in 1889.
At the top of his art…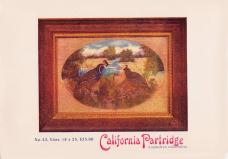 Charles won many taxidermy contests, including the Jamestown Exposition contest, on November 2, 1907. He won the gold medal for "Ornamental."
You can consult the slideshow of the presentation.
(1) For more information, consult the "Charles K. Reed" section. Charles K. Reed